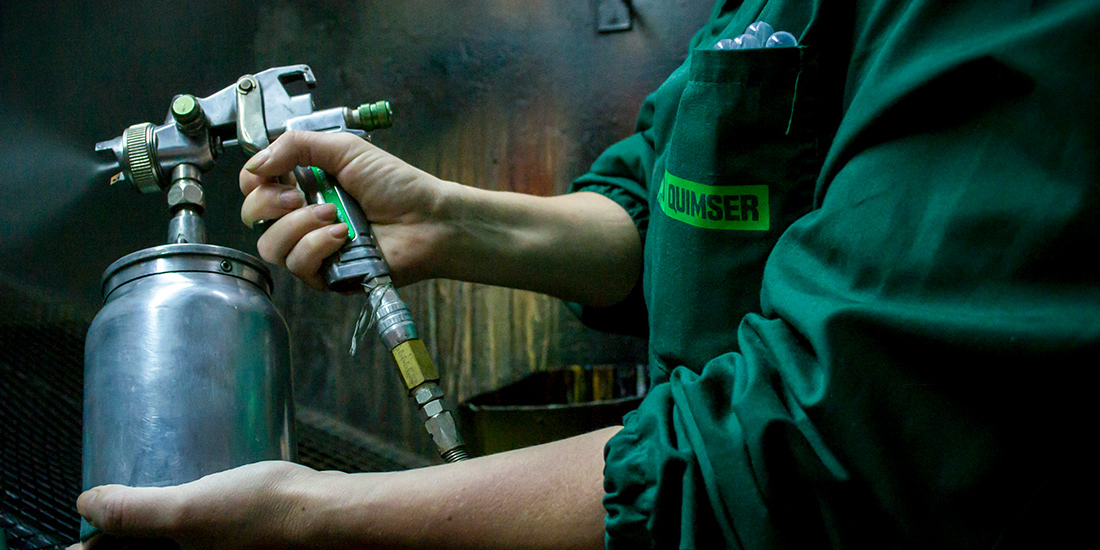 A complete range of finishing products to obtain high quality articles. Waxes and caseins, aqueous pigments, metallic dyestuffs, pull up oils, solvent and aqueous lacquers, acrylic and polyurethane resins.
CASEIN. NATURAL GLOSSES

When we wish to obtain natural appearance .
When we need to obtain transparency and high gloss.
Smooth feel, warmth and natural feel.
They can be ironed at high temperature.
They are the base of polishable finishings.
Special for vegetable tanned leathers and shoe finishing..
FILLERS, COVERAGE, MATTING AGENTS

They are used in ground compositions to improve the leathers grading due for their coverage.
Improve the finishes covering.
Give matting effect, opacity or crack/breaking effect.
Excellent results are achieved in corrected grain, vulcanised split, hides having superficial scratches.
When we need to decrease the thermoplastic effect.
They improve the embossing film properties due to their hardness.
WAXES

Warm/waxy/smooth touching. Natural appearance of finishing.
Grounding. Filling.
Polishable. Gloss and transparency.
Especial Effects.
To reduce films plasticity.
Shoe finishing.
All the waxes in this range are non-ionic.
ACRYLIC RESINS

Used when we are interested in to increase the flexometríes of finishing articles.
Offers a good covertures.
To increase the wet rub fastness of natural finishing`s based in was and casein.
IMPREGNATION

Micro-particle resins used in order to improve the looseness and grain break of crust leathers (specially cow and buffalo).
To prepare the leather for grounding and general finishing.
To improve the anchorage of ground coats or to regulate the penetration of finishings.
All resins are very soft and don't give harder leather.
Good buffing behaviour.
We get smooth, very full and compacted grain.
PU-RESIN

Used to increase the flexometríes of finishing coats. Good coverage.
To increase the Rub fastness and wet resistance.
To increase the cold-crack film at low temperature.
To increase the Solvent resistance.
ESPECIAL RESINS

To be used as sole resin, adding pigment and lacquers.
The film characteristics can be modified by adding other products.
Giving the coverage, anchorage, elasticity and adequated touching according the requirements of article.
LAMINATION

Special adhesives and auxiliaries for paper-film and other film material
Different adhesion power and resistances.
Good fixations on films.s.
LAQUERS: AQUEOUS BASE

High and natural gloss.
Good Rubber fastness.
Good film fixation.
For intermediate layers and final tops.
To improve the rub fastness water base lacquers can be reticulated with our Fix-Top RI.
LACQUERS: SOLVENT BASE

High and natural gloss.
Rubber fastness.
Good film fixation.Quick drying.
WATERPROOFING-WATER REPELLANCY

To be applied in suede, no buck, split and full grain.
To stop/reduce some finishing penetration.
Do not form film.
Pleasant touching.
SPECIAL FINISHING OILS AND FATS

Strong effect Pull-up oils.
Conferees smooth surface feel and some water-repellence.
Polishable.
To be used in all kind of leather, specially in corrected, full grain, timbers, full vegetable leather… greased articles.
You can get different articles when mixed with waxes.
Applied by gun (when diluted) or directly by airless or roller (diluted or without dilution).
After use SA-3 and SA-4 machinery is easily cleaned with water.
PENETRATORS

When we need to improve the penetration of ground finishing.
To dilute impregnation resins.
FEELING AGENTS

To improve and change the feeling and touching on finishings.
To avoid the dry feel, plastic feel or tackiness.
To improve the wet and dry rub fastness.
To be used in final tops of resin or lacquer (solvent-emulsion).
CATIONIC

To obtain very good filling effect and opacity.
Cationic products reduce the leather surface absorption and improve the break of finishing.
They are polishable and gazable.
Give warm and waxy feel.
CAPAFIN PIGMENTS

Water based pigment micro-dispersions.
All our Capafin Pigments are METAL FREE.
No casein containing.
Light-Clean colours.
Containing small quantities of charges.
Semi-transparent pigment. Fillers can be added in order to increase the opacity.
Light, heat, migration…fastness are excellent.
SERANIL ANILINES

Metal complex dyes in solvent means.
To be used mixed with pigment coats, aniline finishing, bi-colour contrast, tipping effects.
Are very suitable for lacquer colouring (solvent and water base).
They are water soluble when are mixed with polar solvents or special penetrators (see Dyes Auxiliaries).
Good penetration and tintorial efficiency.
According their chemical composition, SERANIL dyes fulfil with maximum requirements like light fastness, fixation, migration…
DYING AUXILIARIES AND OTHERS

To improve dying penetration, fixation, igualation.
To improve anilines water solution.
To improve dust fixation.
To improve the softness in immersion dying.