Do you need more information about Quimser's products? Our catalogues are ready to be downloaded for free.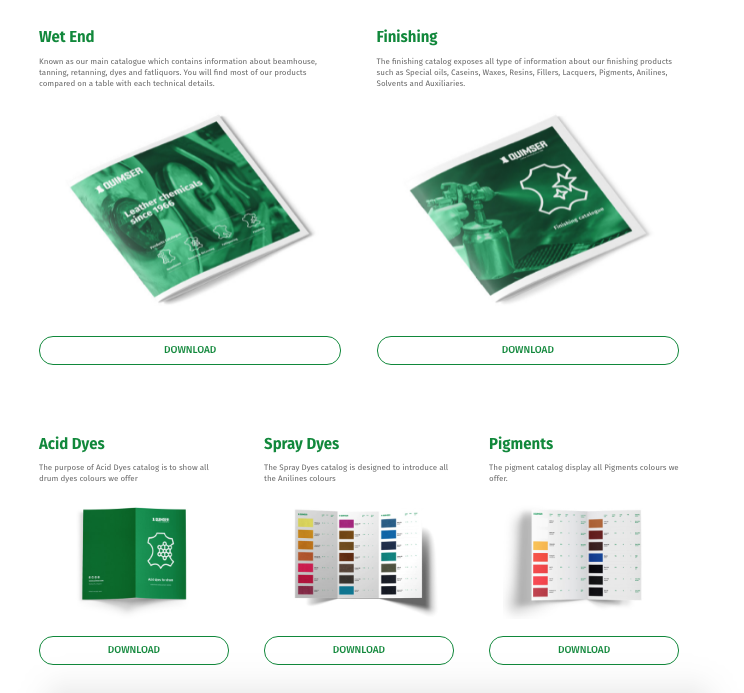 In the catalogues section of our web you will find Quimser's product catalogues ready to be downloaded for free.
Our purpose is to help customers to better understand the characteristics of our products and to resolve any technical questions.
In the catalogue section you will find information about:
WET END: Beamhouse, tanning, retanning, dyes and fatliquors. You will find most of our products compared on a table with each technical details.
FINISHING: This catalog contains all type of information about our finishing products such as special oils, caseins, waxes, resins, fillers, lacquers, pigments, anilines, solvents and auxiliaries.
ACID DYES: It shows all the drum dyes colours that we offer.
SPRAY DYES: Designed to introduce all the anilines colours.
PIGMENTS: This catalog displays all pigments colours we offer.
We hope that this will become a useful tool for your work.
For futher information about our range of products, contact us and we will be happy to help you.