At Quimser we continue working to achieve highly biodegradable leathers. At present, we find ourselves with a very divided and disoriented market that does not know exactly what consumers are asking for. We have all heard that there is a demand for "eco-leather", "metal-free" and "chrome-free" leathers, but what is really being sought? What is the real destination of this leather?
In addition to this, we have another competitor: "vegan leather", made with synthetic materials (plastic and PVC) which is gaining market share due to the fact that it is not of animal origin. It must be made quite clear that natural leather is a waste that is recycled to give new life.
With regard to leather of animal origin, we observe that a transformation is being sought in order to carry out processes that are more respectful with the environment and for the health of living beings. Taking into account that the industry is asking us for different products with different names, we have decided to make this report to define concepts, products and processes, in order to achieve biodegradable leathers.
CHROME FREE LEATHER: It does not have chrome.
METAL FREE SKIN: It is the leather without any kind of metal.
ECOLOGICAL LEATHER: We consider that a leather is ecological when the result and the processes to obtain it are environmentally friendly.
In all three cases the demand is diverse. However, the purpose is the same.
Chrome free leathers are those that can be worked with aluminium, synthetics, aldehydes and other products that may be more or less ecological, without taking into account the biodegradability of the leather obtained or if the process causes less ecological concern. Only chromium is removed, since it is a contaminating and toxic material. Many of these products are petroleum products,  with a high pollutant load.
Metal-free leathers include the elimination of all metals (chromium, aluminium, zirconium…) which does not mean that these products and processes are eco-friendly or that the resulting leather is biodegradable.
Finally, ecological skins are those that have been worked with eco-friendly products and through processes to obtain leathers with high biodegradability and with very little or null impact on the environment. In these cases, the waste resulting does not create any problem.
What means biodegradable?
The adjective biodegradable qualifies those substances that can be degraded by the action of a biological agent, such as certain animals, fungi, and bacteria that can achieve the decomposition of these types of materials.
When a product is biodegradable?
We refer to a product or material biodegradable when it can decompose naturally and ecologically in a relatively short time, non-contaminating the environment and becoming a friendly compost product for the earth.
At QUIMSER we have worked with different solutions to fulfil market demands. For this, we offer two possible alternatives:
TANNING WITH SERTAN WT
With this product we obtain white leathers, with very low or non-existent oxidation, shrinkage temperature: 80-85. We have realized that the resulting leather is highly biodegradable. This zeolite-based product leaves very little aluminium. Despite the fact that the Manufacturing Restricted Substances List (0-MRSL ZDHC V 2.0 2019) does not prohibit the use or the presence of aluminium in leather, we know that some markets claim metal-free products. At Quimser we defend this product as an alternative to ecological leathers, since it is a material that is not restricted and has multiple uses in other sectors that consider it an eco-friendly substance: food, agriculture, cosmetics, etc.
It is a simple process, with products prepared to work in a safe and easy way. SERTAN WT tanning is very similar to chrome tanning, which makes it easier for tanners to start working with this new process.
In this tanning we work at pH 3.5-3.8. To maintain it, we recommend using SERFIX AF, a buffer product that helps the reaction being less aggressive and helps for a better fixation. Fuller, more uniform skins are obtained with less grain tension.
VEGETABLE TANNING WITH SERTAN VLI
This is an option that works with modified vegetable extracts together with natural polymers to have similar results to chrome tanning. We obtain leathers in a beige / yellow tone, with higher oxidation and a shrinkage temperature of 80. In this case, the leathers are also highly biodegradable and the products used are eco-friendly. The only drawback to using this product is that it is not suitable for white colours or items with high light fastness.
In this process we use SERTAN VLI as the main tanning agent, a product based on plant polymers that, together with SERTAN NP, achieve very good dispersion and penetration, with a uniform grain. The result is a leather that is not entirely white, but with a very light in colour, easily oxidizable due to its natural origin.
Other alternatives are oxycillidine or gluteraldehyde that contain formaldehyde. These can be used only in a limited way. For this reason we try to avoid the use of these products that generate toxic gases during their manufacture and a waste that is not respectful with the environment.
Therefore and after exploring the different options, we consider that in order to obtain ECOLOGICAL LEATHERS and eco-friendly processes, we should work with one of the options above mentioned.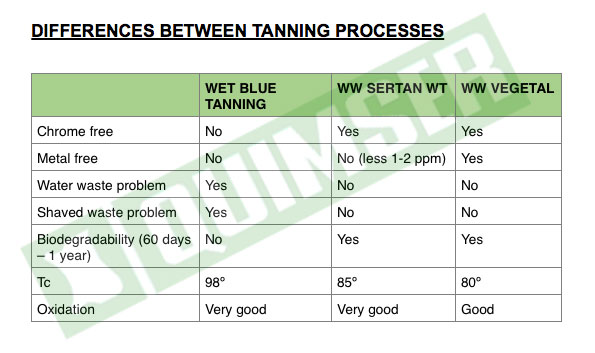 RECOMMENDED RETANNINGS AND FATLIQUORINGS
Quimser's technical team recommends continuing working with those products that provide us with a highly biodegradable article and with a minimal impact on the environment. Account have to be taken that for each article we will use a type of product in the recommended proportions to achieve the objectives and requirements of each client.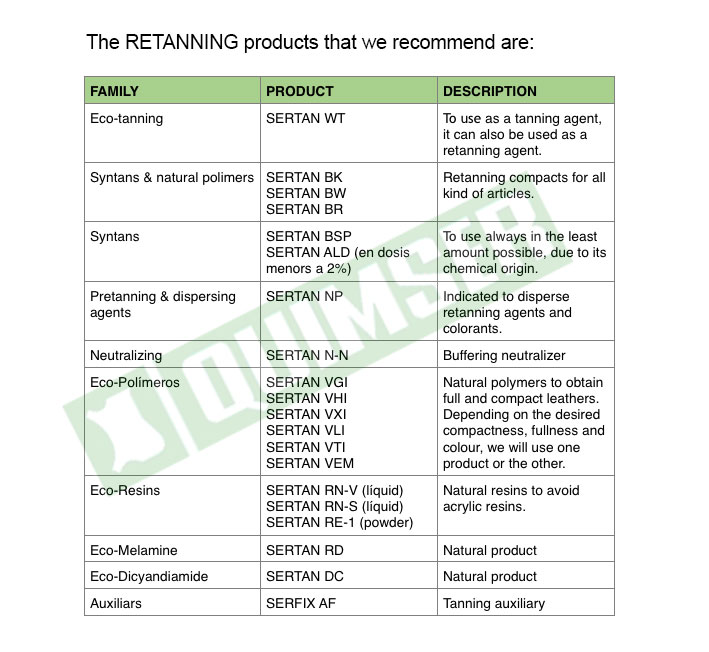 RECOMMENDED FATLIQUORING PRODUCTS:
QUIMSER's range of oils has been studied in order to offer leading-edge products complying with all the established requirements and the certifications that the sector requires. We will use the right product for each item. Some of our recommendations are: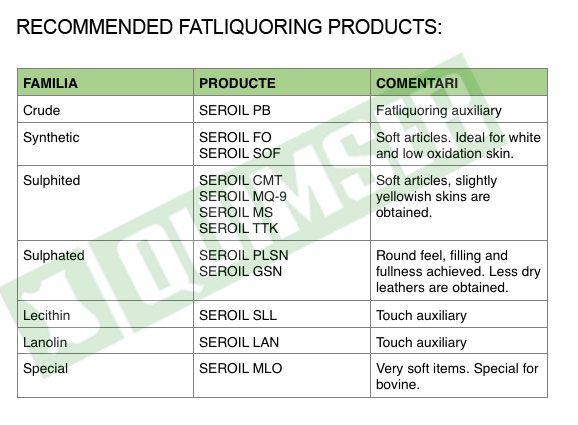 Click here to see Test 1: Biodegradability of the leather (with sheep skins)
Click here to see Test 2: Biodegradability of the leather (with bovine crust leathers)